Never Let A Good Crisis Go To Waste
Maybe you have heard the phrase before. It may have been Winston Churchill who said it but the money makers on Wall St. and the law makers in DC may be using it most. What they may be saying is when something bad happens, something good can come from it. For example: when life gives us lemons, we make lemonade. I think they are right and some of us may already be squeezing lemons.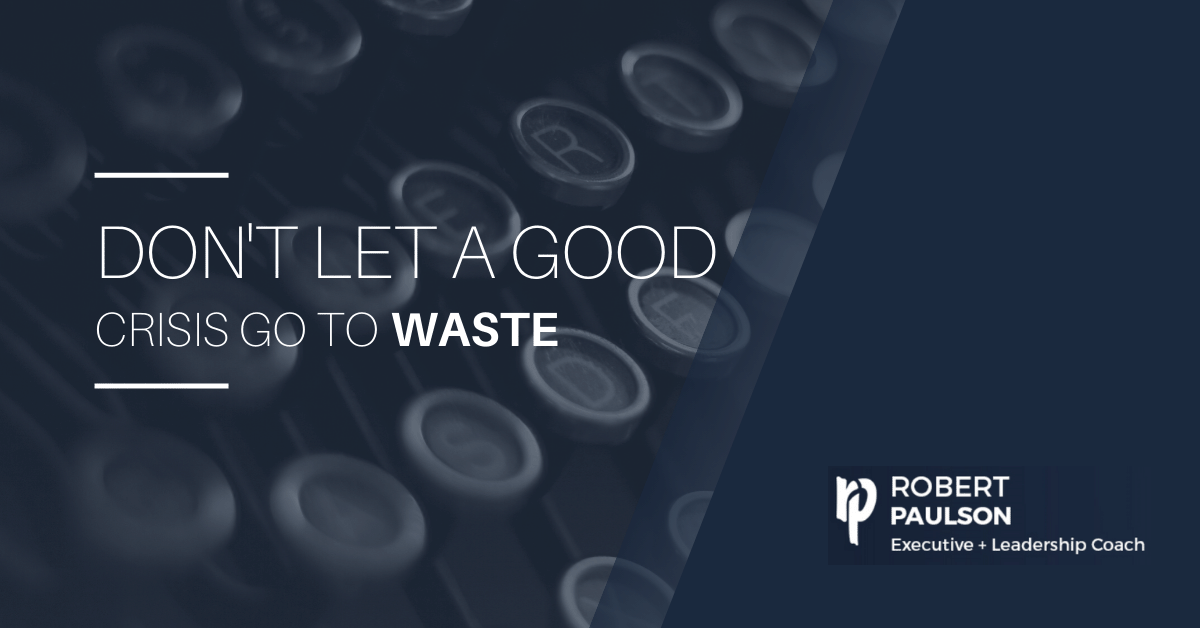 This health crisis came slow and then fast. We saw it coming and didn't realize how serious it was until it hit us. Former professional boxer Mike Tyson said, everyone has a plan until they get punched in the face. He may be right, and it hurts. We are all feeling the pain and it is affecting everyone – Our government, municipalities, businesses, schools, our lives and the world around us. We are all suffering and it's costing some their jobs and businesses and others their lives.
If we pay close enough attention to what's happening, we may realize there is a lot to learn and pay attention to. As a coach, I get to work with some great companies and amazing people. For many of them, they've been through tough times before. They have seen a lot and learned a lot and what they are saying now is this crisis is giving them an opportunity to learn more about their business and people more than almost any other time before. They say getting out of this crisis is certain but how much we learn from it will be the difference that makes the difference.
Here are a few things they are doing:
1- Companies are revisiting their mission. You know, the phrase under "about us" on their website or the picture on the wall at the office. It's their unique contribution to the bigger picture, what they are doing to make a positive difference and their reason for being. Many companies cannot help but to pay attention to what's happening to them, their people, customers or clients and the world around them. It's like someone pressed the pause button but life continues to play in the background, slowly and differently. I don't know, maybe life has something to share with us and those who are listening will benefit. Either way, some companies are taking a closer look at what's most important and they are liking what they see. Maybe because it feels good and it creates win-win outcomes, my favorite scenarios.
How their mission is helping them:
boosts performance

guides them through uncomfortable situations

keeps them grounded

pushes their ego to the side

creates motivation to move through pain, fear and apprehension

empowers them to do more than imaginable
2- Businesses are appreciating their people. We know behind good companies are great people and a lot of companies are showing it. They are collaborating and working effectively with their people, quickly adapting to new environments and ways of working together, they are communicating + listening, prioritizing and getting things done. It's happening from the top down and the bottom up. What inspires me most is how quickly these companies are choosing people over profits. Maybe it's me but it seems like companies are behaving like families, supporting and caring for one another. It's nice to hear and it's even better to watch. Workers are appreciating their companies for appreciating them. They are seeing their companies put the needs of their people above their own, causing them to reciprocate, contribute and give their best.
3- Companies are taking a closer look at what their clients value most. All companies sell a product or service, but how many can tell you what their customers want most, not what they think they want. Companies are using their time wisely, more than ever, they are paying closer attention and listening more to the needs of their customers. I can only imagine how this will help them in the long run. When customers get what they want most at a time when they need it most, they remember. Zig Ziglar may have said it best, when you help enough people get what they want, you can have everything you want. This is how loyalty forms. When loyalty forms, customers win. When customers win, businesses grow and people succeed.
What I continue to learn- companies with a strong mission, a genuine appreciation for their people, and a deep desire to deliver, will become stronger and more successful. I couldn't be more excited about all the great things coming our way.
Don't be surprised when we get back to the office, the water coolers are replaced with lemonade.